Your job is up in the air, there's a horde of photographers outside the front door and the dog needs a walk – what's your next move?
For Gary Lineker there was only one option last Sunday: step into some sturdy footwear and jostle your way through the cameras into the peace of a nearby park.
In many ways it was the classic celebrity walk of defiance, but one feature of Lineker's look lent it some extra star quality, and not the for the first time in his career, it was the former England striker's boots that caught the eye.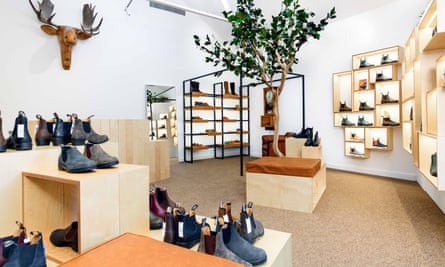 Lineker appeared to be wearing a pair of boots by Blundstone, a company founded in Tasmania in 1870 that supplied Aussie troops in the world wars. Made with the rugged terrain of the Australian island state in mind, they have been adapted to include cleats for troops in the jungle and were worn by mountaineers climbing Everest in the 1970s. Also worn by Kate Middleton, David Beckham, Iggy Pop and Brad Pitt, and a favourite among farmers and fashion editors, the understated Blundstone boot is, a little like Lineker, having a moment of unexpected attention.
That rare item that unites a broad range of people who wouldn't usually be found in matching footwear, Blundstones, or "Blunnies" as they are also known, have become a sleeper hit. A recent New York Times article suggested that what Timberlands were to the 1990s and Uggs were to the early 2000s, the Blundstone may be to the early 2020s: a marker of where we are at as society.
Over the past three years searches have risen 117% on shopping platform site Lyst, with the greatest number of searches coming from people in their late 30s. The brand itself reports 100% growth in UK sales since 2019. Stealthily, given their unassuming aesthetic, they have become ubiquitous on high streets and fields across the country.
Firmly unisex, women are key drivers in the growth of the brand. "In most markets, the 24- to 35-year-old female segment is showing the fastest growth for both awareness and purchasing behaviour of our brand," says joint-CEO Adam Blake.
While the company has been around for more than a century, trend forecasting company WGSN named it a brand to watch in 2021. "Its core positioning as a heritage brand with its roots in functionality meant it was well placed to reap the benefits of the great outdoors trend that saw people putting their money into gear that could be worn on gentle hikes and in town," says Lorna Hall, director of fashion intelligence at WGSN.
Their unfussiness fits with a broader pandemic-related mood for gardening, fresh air, mud, growing vegetables, throwing pottery and bread baking; the good life. "The Blundstone boot is an undoubtedly handsome, sensible shoe," says Esquire style director Charlie Teasdale, who recently located the boots within a look he calls "allotmentcore", which broadly means dressing like Monty Don.
"But I would wager that many people wear them because of what they suggest: that the wearer lives at a slower pace of life than those in the rat race, that they are unburdened by the pressure of trends and that they are into crafts and artisanal goods." They are, he says, "kind of the official shoe of post-pandemic mindfulness".
For Teasdale, who got his first pair – "the classic shape in mottled brown" – five years ago, Blundstones represent this aspirational style of country living even for those, like him, who live inside the M25. Blundstones, he explains, appeal for their cultural cache – they "have become a marker of supposed taste, like Aesop handwash or an LRB tote bag". In this post-logomania era, their lack of showiness fits the mood – what logos they do have are subtly embossed on the soles of the boots and embroidered on their straps.
But they aren't just popular with aspirational good lifers, urban dog owners or the frequenters of farmers' markets. "They're a bit of a uniform around these parts," says Susan Kinsey-Jones, who says she and her husband, who run a natural wine vineyard in a remote part of Wales, wear them more than any other footwear.
There are of course other boots that tick a similar box, such as the Hunter ankle boot welly, which is a very similar shape and style. There have been high fashion examples, too – in 2019 footballer and style icon Héctor Bellerín attended the Emirates stadium wearing an aesthetically similar pair by Prada known as the Brixxen boot.
The popularity of such work-a-day footwear is in line with strong sales in casual footwear in general. According to industry publication Drapers, customers are prioritising comfort and functionality over formalwear.
For Kinsey-Jones, their ease of gliding on and off is a key tenet of their appeal. "We have two small children which means there's no time to mess around with anything fiddly like laces." This, according to Hall, should not be "dismissed lightly; subtle pandemic influences on people's product choices persist and doing up laces is now a step too far in faff, for many, it seems an unnecessary activity after wearing slippers and clogs for more than a year."
Teasdale suggests wearing them with "equally stoic clothing, so go for (slightly) wider leg trousers in denim and heavy twill, soft collar shirts, chunky wool sweaters (preferably knitted by someone you know), heavy overcoats, burglar beanies."
Kinsey-Jones likes to wear hers with two layers of wool socks in winter or floaty dresses when it gets warmer. While her husband wears his with the ultimate accessory: a bit of mud.