Let's face it, sturdy boots are one of the most expensive (and most important) pieces of gear in your hiking or backpacking closet, and researching the latest tech-forward, lightweight and waterproof options can feel like a dizzying chore. You'll likely want a shoe that requires little to no break-in time, that also performs well in a wide variety of environments, should your road-tripping itinerary suddenly take you from conifer-studded peaks to arid desert crags. Vasque's Breeze hiking boots check all of those boxes.
In 2020, I traveled to every US national park, and not only have I never once received a blister from any of my beloved Vasque hiking shoes (after miles of solo backpacking through red rocks and tramping through muddy tundra in the Arctic wilderness), I've also never needed to break them in, a true feat of engineering. From Death Valley's dune fields to Yosemite Valley's glacially-polished granite, these are easily one of my all-time favorite pairs of hiking boots. Here's why they're a cut above the competition.
Vasque Breeze Hiking Boot
Suitable for rugged day hikes and burly weekend backpacking trips alike, Vasque's Breeze hiking boot is a bestseller for good reason. Featuring super-grippy lugs, true-to-size design and recycled materials, it's a fan favorite that's also light on the environment.
What we liked about it
One of my closest friends has a saying: "Spend big on anything that goes between you and the ground." That's how I feel about my hiking boots. I might save money by purchasing used or last season's outdoor apparel, but my shoes will always come first because, at the end of the day, I don't want to suffer interminable blisters or foot pain.
That being said, Vasque boots have always treated me well. I've never needed to break in a pair of Breezes, and they've never given me those oh-so-dreaded blisters. The shoes are also decently waterproof and offer phenomenal traction for muddy, rooty trails.
Excellent traction
I split my time between Colorado and California, and apart from eyeing a boot that's lightweight, one of the first things I do when selecting a new pair of hiking shoes is take a close gander at the underside of the design. Typically, the lug pattern (that's the traction-giving bumps on the shoe's outsole, for all you non-obsessive gear heads) will be deeper, sharper and thicker on a boot that's intended for mountaineering or backpacking in adverse conditions.
Similarly, the "heel break" area should have a distinct, defined pattern that differs from the forefoot lugs to reduce your chance of sliding on steep descents. The Breeze delivers on both fronts — hardy lugs and a solid heel break.
Lightweight, sustainable materials
With the most recent update of their flagship Breeze hiking boot, Vasque has, like much of the industry, added a significant percentage of recycled fabrics to its design to increase sustainability while maintaining performance.
Weighing in at 2 pounds 2 ounces per pair, the Breeze is similar in weight to other supportive, waterproof boots suitable for backpacking, with 100% recycled webbing, a 75% recycled upper mesh and 20% recycled sugarcane midsole to help ease manufacturing's strain on the environment.
Wide width option
This one's for all my fellow wide-foot hikers out there. I absolutely loved that, unlike most brands, Vasque offers two width options for the Breeze boot, Regular (B) and Wide (D). This means that savvy hikers who like a little extra room in the forefoot can nab a shoe that fits them properly, without having to resort to wide-footed trail running sneakers, which won't offer the same ground stability and ankle support.
Zero break-in time
Given my intense regimen of weekly hiking and seasonal backpacking, I've gone through roughly four pairs of these shoes in the last several years, and not a single pair of them has required breaking in. They've also never given me a blister (not even in the Alaskan bush, when daily stream crossings left me soggy and chilled). This makes them an ideal choice for a last-minute road trip or trekking adventure purchase when you know you won't be able to go for a few smaller hikes before swan-diving into the fray.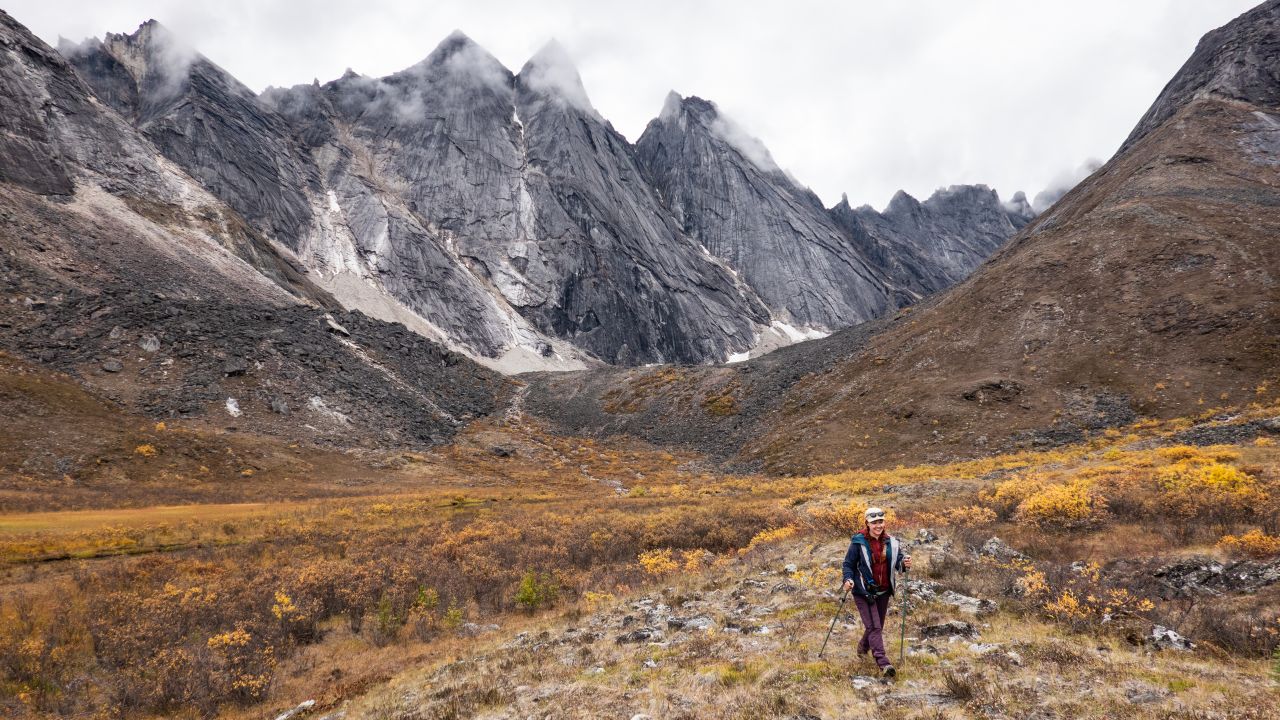 Improved waterproofing
When I took my Vasque Breezes off-trail backpacking for five days in Alaska's Gates of the Arctic National Park, I was disappointed that they tended to soak through after hours of slogging through mushy, autumn tundra, even when it wasn't actively raining. This seemed like a common point of concern in online reviews, too.
When I received the new model for testing this season, I did a do-over and held them under my sink faucet for a full minute, bending the shoe in every possible direction to see if it would leak. The result? No water anywhere on the boot's innards.
What we didn't like about it
As with most good pieces of gear, there are a few things we'd like to see Vasque do differently the next time they update this hard-working hiking boot. Once they address the shoe's propensity to overheat in hot climates, due to lack of ventilation, and the durability issues with the upper ankle mesh, this'll be a virtually bomb-proof shoe.
Breathability could be better
Though these boots didn't give me any blisters, they weren't exactly the best for warm climates, either. This is likely a product of the brand's proprietary VasqueDry waterproofing technology, which, though excellent, is not the most ventilating on the market. That's perfectly fine if you hike a lot in forests, during shoulder season or at altitude, but if you're a desert aficionado, maybe try to find a lightweight trail runner or Vasque's soon-to-be-discontinued Breeze LT NTX.
Mesh rips easily
Maybe I walk with a narrow gait, but I've noticed that the mesh upper on the ankles of my Vasque boots rips more easily than other brands'. This is likely a combination of the shoes' solid lacing hooks, which help hold the laces as tightly as you want them around your ankle and the fact that I often wear microspikes to walk my dog in the winter when it's icy or snowy outside. Either way, we'd love to see more leather or a heftier fabric up top to keep these babies looking chic and like-new for longer.
How it compares
When it comes to solid, high-performing hiking boots from top brands, Vasque's Breeze ($160) actually comes in a bit cheaper than its competitors, like the La Sportiva Nucleo High II GTX ($180) and the Salomon X 4 Ultra Mid Gore-Tex ($175), which both feature grippy, stable soles for long hikes over technical terrain. The Salomon does come in a smidge lighter, however, at 13 ounces per shoe, rather than 17 ounces.
Seeking a burlier, even more waterproof hiking boot for heavy use in rugged conditions? Vasque's St. Elias FG GTX boasts a waterproof nubuck leather upper and Gore-Tex technology for pushing big miles and backpacking in extra-soggy terrain.
Contrarily, if weight and ventilation are of utmost importance to you, check out Altra's Lone Peak All-Wthr Mid 2, which weighs in at just 1 pound 8 ounces for the pair, while providing more ankle support than you'd get with a standard trail running sneaker.
Bottom line
If you're looking for a sturdy, waterproof hiking boot that requires zero break-in time for your next romp in the mountains, Vasque's Breeze is an epic all-terrain pick. Not only is this bestselling shoe cheaper than many of its competitors at just $160, it also provides avid (and newbie) hikers with the ultra-grippy lugs, ankle support and sustainable fabrics that they'll need to carry them into the most rugged landscapes for years of adventures.