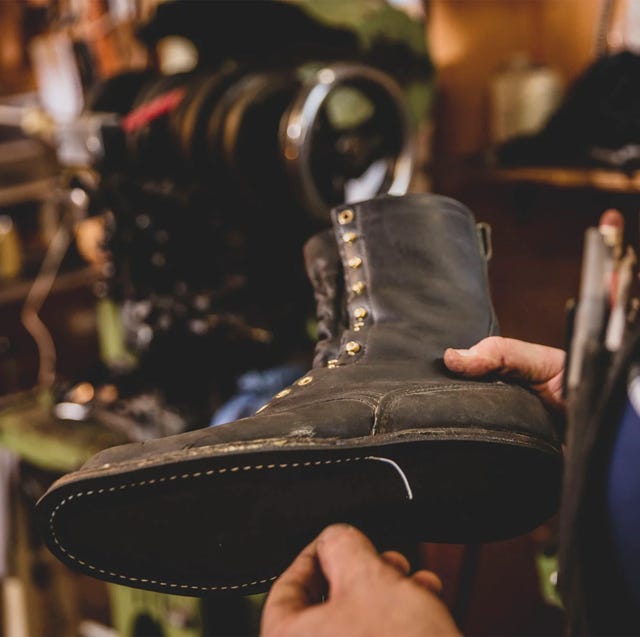 Although bespoke footwear seems like a far-off luxury reserved for aristocrats from the 1800s or high-earning sartorialists from today, custom boots are still a thing — and you can get yourself a pair for a pretty fair price. Below you'll learn how to get a pair of your own, custom-made for you (and you only).
Why You Should Buy Custom Boots
Your True Size, Perfected
If you're tired of trying to keep up with the inconsistencies in sizing between brands, go custom. If you work directly with the bootmaker, whether online or in person, you're less likely to find yourself stuck with a boot that's too big or a boot that's too tight. Plus, if you have big, exceptionally small or seriously wide feet, perhaps even uneven feet, you can go into a fitting session confident the brand, or bootmaker, if you're lucky, has your best interests in mind. Custom could be the easiest way forward for you. (Shaquille O'Neal, for example, wears a size 22, which means he has to custom order all of his shoes; sure, he's plenty rich, but most brands only go up to 16.)
If you wear boots that are too tight you run the risk of developing health problems like bunions or hammer toes. Neither of these conditions onset immediately, meaning you can probably get a dozen wears out of 'em each year — bunions may even be genetic — but you shouldn't do that to yourself. If you can afford to, go custom.
Your Boots, Your Materials
Whether you're going custom because you're an aspiring designer or because you're simply picky, the whole point is to create something only you own — or even thought of. Sure, if you're custom ordering a shoe for your wedding, for example, it might make sense for it to be simple — a super-nice design with tiny details nodding to the special occasion. Otherwise, I'd say go for it — get the leather you rarely read about; try the nappy suede; put a lug sole on a soft boot. This is your opportunity to create something you've always wanted; something you've dreamt of wearing with your made-to-measure Oxford or your custom khakis.
What to Know
You're Going to Wait
This process is the antithesis of fast fashion. If you order a pair of custom boots, expect to wait at least 10 weeks. More realistically, I'd say, expect to wait somewhere around 24. That's right in the middle of most updated lead times. Times are crazy, and things are slow; shipments go missing or drivers go on strike. Don't expect a super-fast turnaround.
Terms to Know
Insole
The interior surface of the boot that comes in contact with the sole of your foot.
Last
The wood or plastic form used to create the shape of a boot.
Midsole
A structural layer of the boot that sits between the outsole and the insole.Outsoles: Sometimes just called the sole, this is the bottom surface of the boot that comes in contact with the ground.
Upper
The combination of parts of the boot's top, including quarters (which wrap around the heel), vamp, tongue and saddle.
Vamp
A part of the upper that covers the instep of the foot and can extend over the toe in certain styles.
Welt
A narrow strip of leather on the exterior of the shoes that secures the midsole to the upper.